About Temporary Tattoo Store
The Temporary Tattoo Store is the home of Glitter Body Art Ltd. We produce fun & exciting Glitter Tattoo products. Our products are easy to use, safe for use by children & CE Approved. We stock a variety of glitter tattoo kits for all ages. We are always adding new, original designs, so keep checking our page!
Along with our temporary tattoo stencils, we supply a large range of glitter, cosmetic glitter for face & body use, body glitter for use only on the body, biodegradable bio glitter and festival glitter.
We also supply Grimas Face Paints, Face Paint Stencils & accessories, Water Transfer Tattoos, ink tattoos, Body Glue, advertising banners & display stands.
We have everything you need to start up a glitter tattoo or face painting business! Whether you run small parties or big events, we can provide the glitter & equipment for you to add some sparkle to the party!
Glitter Body Art Ltd are UK Manufacturers based in South Wales. Our products are cosmetically approved, manufactured & packaged from our own factory in Bridgend, Wales.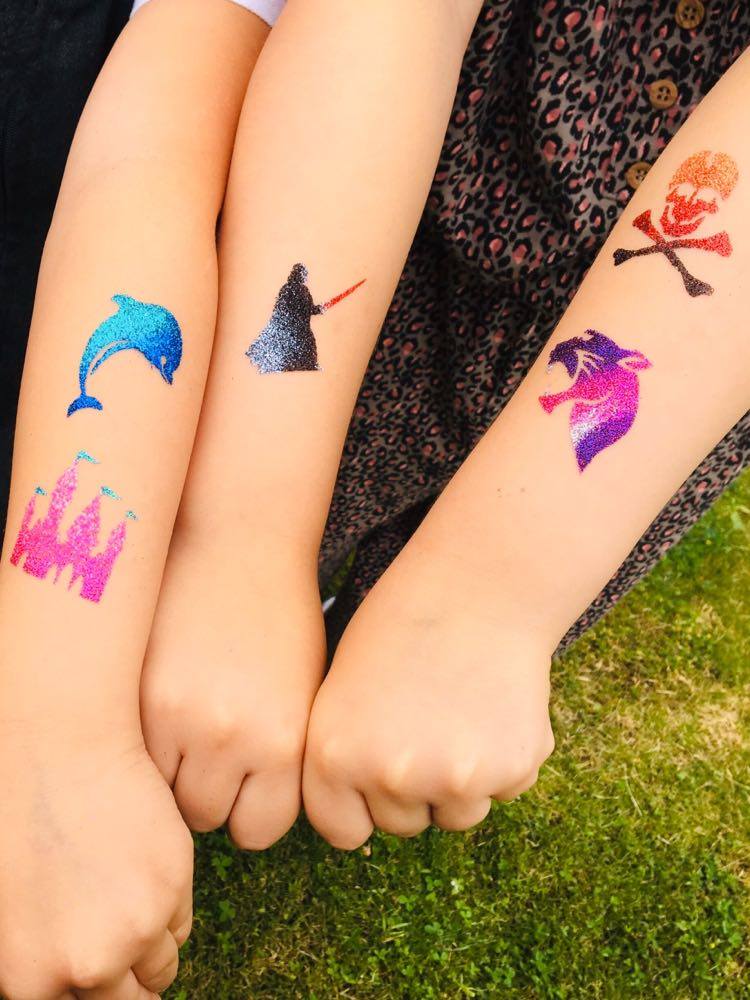 Best in the market. Easy to use and long-lasting tattoos. I had a month out of one tattoo before it needed changing. Easy to use and a good selection of designs and glitter colours. I love the fact I can buy large refills so no need to replace the pots they come in. Quick delivery at a reasonable price.
I've been buying from GBA for over a year. All the products are great quality, there is plenty of choice of stencils and different glitter colours and delivery is very fast.. their customer service is also fantastic. I'm like a kid at Christmas opening my glitter parcel. Its Magical for us grown ups too!!
I have been tattooing with glitter for over 8 years now, i have tried other products and companies and i always kept coming back here….now i don't go anywhere else, the products are fantastic and the customer service is brilliant.
Latest News from Temporary Tattoo Store
No Results Found
The page you requested could not be found. Try refining your search, or use the navigation above to locate the post.