White Iridescent Body Cosmetic
This is a beautiful Aurora White Iridescent Body Glitter, white sparkly holographic and iridescent glitter for glitter tattoos
Iridescent, sparkly White Body Glitter which displays a lush rainbow effect of colours, reflective in different lighting giving off the mermaid effect.  Super sparkly.
Please note the photographic picture may differ slightly from the genuine colour
Not for use on the face.
Our Sparkly Shimmers come in Size 008
Loose hexagon shaped glitter.
Suitable for Glitter Tattoos. Solvent Resistant so also perfect for nail technicians to use with Acrylics and Gels.
How to Apply
Use a makeup brush to apply the glitter on top of body glue is you are creating a glitter tattoo.
Mix with acrylic and gels or simply sprinkle onto of wet nails for nail art creations.
Glitter Body Art's cosmetic face and body glitter range give you all glitz, glimmer and dazzle you require for your events.
We have a large range of colours, including
Iridescent glitters which are sparkly, shiny and shimmy translucent colours
Holographic glitters glimmer a beautiful kaleidoscope of colours
Fluorescent glitter which are ultra bright colours
Chunky Festival Glitter Mixes.
Environmentally friendly Bioglitters
Please take a look at our Glitter Pages HERE
Most colours are available in:
5 gram jar with screw top lid
5 gram puffer bottle with rubber removable lid for easy refilling
60 ml refill bottle (approx 40gm - weights are approximate due to different densities of glitter)
1 Kilo Bags - please enquire about pricing.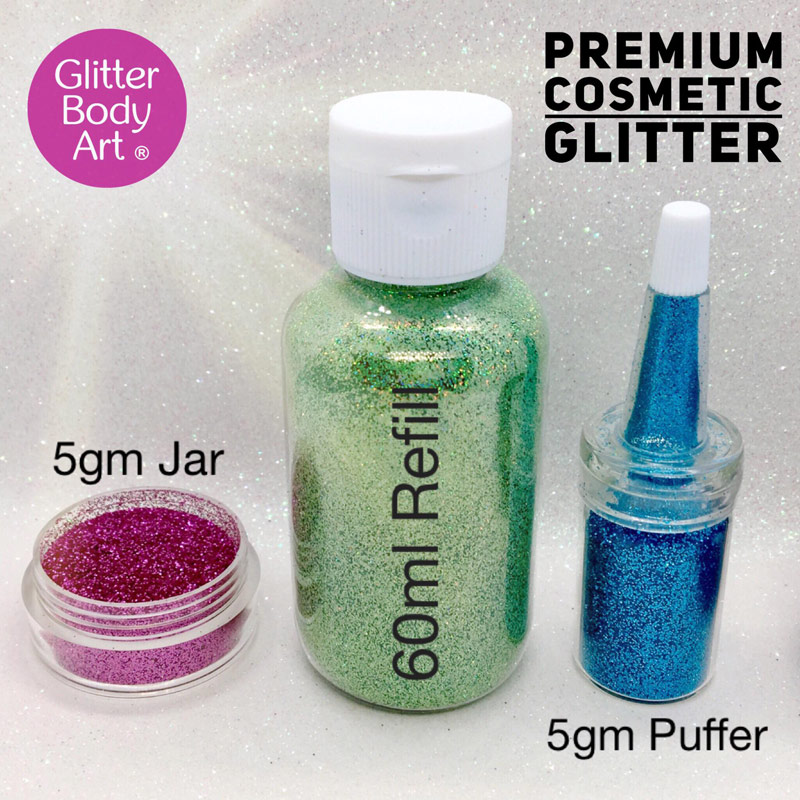 Please check out our Instagram for video and pictures of our glitters being used HERE