The Temporary Tattoo Store is an online shop owned by Glitter Body Art®, which was established in 2006 by a husband & wife team, Jane & David. Our background careers were in Law and Engineering and when our daughter was born, we started our own children's entertainment company supplying facepainting and bouncy castles.
We came across Glitter Tattoos in the USA and discovered that we could not get supplies in the UK and proceeded to import the products for our own party business which we ran alongside our careers. Many of our party customers enquired where they could purchase the tattoos in the UK and suddenly we saw a gap in the market and proceeded to create Glitter Body Art Ltd in 2006 which has proved to be a great success! We started off with a very small unit and we have now grown to a 2000 sq ft unit and looking to expand even further.

Our factory is based near Cardiff in South Wales and we manufacture all of our Glitter Tattoo Stencils onsite and have our own graphic designer who creates the stencil designs, banners and advertising material. Our glitter is all bottled and labelled in house, children's safety is of utmost importance so you can be assured that our products are perfectly safe and adhere to the latest safety regulations.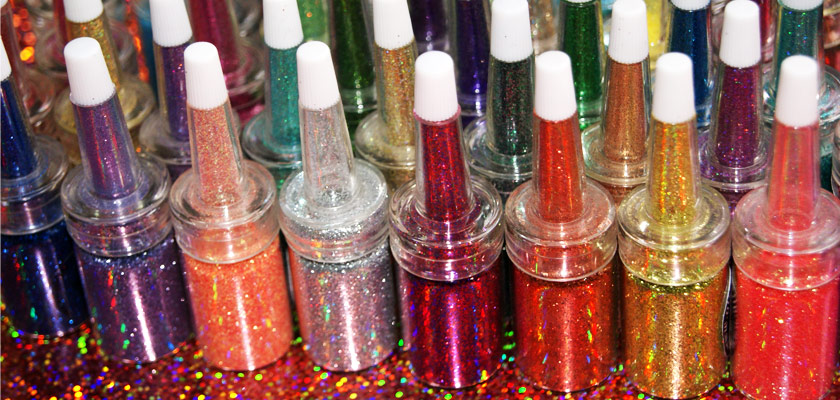 Our cosmetic glitter range comes in various grades and all cosmetically approved, we stock over 150 glitter colours in varying sized bottles. We started off with a standard range of 20 colours but now stock fully Cosmetic Glitter for makeup and glitter tattoos, our standard range for glitter tattoos, a BioSparkle range which is a bioglitter and environmentally friendly, festival glitter, chunky glitter, nail art glitters, glitter lips and much more, we also stock a range of iridescent glitters and holographic glitters.
We supply body art stencils, body adhesives, cosmetic glitters and all accessories separately so you can build your own kit or you can purchase a small glitter tattoo gift set to give as a present to purchasing a large Professional Glitter Tattoo Kit if you run a party entertainment business. We have a kit to suit every pocket.
Our customer base are Facepainters, Funfairs, Salons, festival Organisers, School PTAs, Zoos, Theme Parks, Play Centres, the list is endless, where there are children or adults, body art tattoos are for everyone, everybody love glitter!
Our business is mainly online through our shop www.temporarytattoostore.co.uk, however, we also attend beauty/gift exhibitions throughout the United Kingdom.