Glitter Tattoos – Fun Activity for Kids Parties
Glitter tattoos are a fun and exciting way to add some sparkle to any children's party. Not only are they beautiful and eye-catching, but they are also easy to apply and can be removed just as easily. With glitter tattoos, you can create sparkly glittered designs that will last throughout the party and make your child's celebration even more special. In this blog post, we'll look at why glitter tattoos are the perfect party activity for kids.
Quick and easy to set up
Glitter tattoos are a great way to entertain kids at parties. Not only can they be done in just minutes, but kids absolutely love them! You simply only need a glitter tattoo stencil template, body adhesive, body glitter and a set of application brushes. A fun fact about glitter tattoos is that they can last up to a week, so kids can continue to enjoy their special artwork long after the party has ended. Temporary tattoos are perfect for any type of kids party, from birthdays to sleepovers and even large events.
Glitter Tattoos are a great party activity for kids
Glitter tattoos are a fun and exciting activity for kids' parties! Not only do kids love the sparkly designs, but it also gives them an opportunity to express their creativity. They can pick out the designs they want, and the tattoos can be customized with the colors they prefer. It's a great way to keep the kids engaged during parties and give them something unique to take away. Glitter tattoos also require minimal setup, so they're easy to include in any party agenda. The best part is that glitter tattoos are safe and non-toxic, so parents don't have to worry about their children's health.  Glitter Tattoos are only suitable for children over the age of 3 years. With all these benefits, it's no wonder glitter tattoos are one of the most popular activities for kids parties!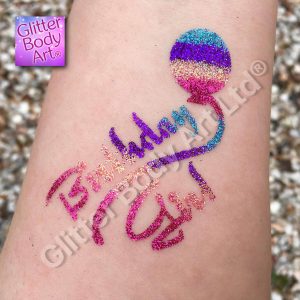 Glitter Tattoos are perfect for any party theme
Glitter tattoos are the perfect way to bring any kids' party theme to life. From Pirates and Princesses to Superheroes and Unicorns, glitter tattoos are a great way to add fun and color to any celebration. They're great for every party theme, no matter how big or small. Glitter tattoos are sure to add some sparkle to any birthday or special occasion, making it truly magical and memorable. So if you're looking for a creative way to make your kids' party theme stand out, glitter tattoos are the perfect option!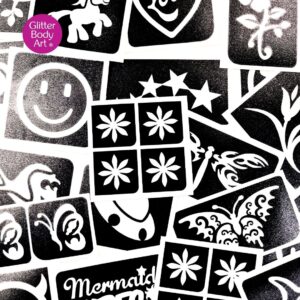 Glitter Tattoo are easy to remove
Glitter tattoos are a great addition to any kids' parties, not only because they are a fun activity for the guests but also because they can be easily removed. Removing the tattoos is a simple process that does not require any special tools or materials. All you need is a cotton ball, some baby oil or lotion, and warm water.
Start by soaking the cotton ball with a few drops of surgical spirit, baby oil or lotion, then gently rub it on the glitter tattoo in a circular motion until the glitter tattoo is gone. If needed, add a few drops of warm water to the cotton ball to help remove the glitter. Once all of the glitter has been removed, rinse the skin with cold water and pat dry. The skin should be back to its natural state with no signs of the glitter tattoo left.
Removing glitter tattoos is an easy process that requires minimal effort and doesn't take up much time, making it perfect for kids' parties. With this quick and easy method, your guests can enjoy their glitter tattoos while still being able to go back to their normal lives without any lasting traces.
Glitter Tattoos are waterproof
Kids parties are a great place for temporary body art! Not only do they look beautiful, but they are also waterproof, meaning your little one can have fun and still look fabulous even when playing in water. The tattoos come with a special fixative which helps the glitter stay put, and makes them last longer. So your kids can enjoy their glitter tattoos all day long without worrying about them smudging or fading away! We do recommend not rubbing the tattoos whilst wet, after bathing or swimming but letting them dry naturally.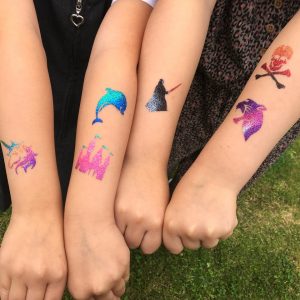 Safe and non-toxic
Tattoos are a fun, safe and non-toxic activity for kids parties. They use only cosmetic grade glitter, safe adhesive and skin-safe colors. The ingredients are certified non-toxic and adhere to all safety standards. The glitter used will not irritate sensitive skin. This makes them a great choice for kids parties as parents can have peace of mind that their little ones are having a safe, fun time.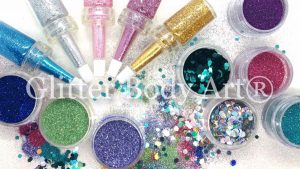 Where can I purchase Glitter Tattoos?
If you're looking to add some sparkle to kids parties, you might be wondering where to buy glitter tattoos.  Here at GLITTER BODY ART we carry a large range of tattoos stencils, hypo-allergenic body adhesive and body glitter, so you can find the perfect designs and accessories for any occasion. When shopping with us you can be assured that you're buying high quality products that are safe and non-toxic. Our products are specifically designed for children, as these have been tested for safety. Our online store is called Temporary Tattoo Store.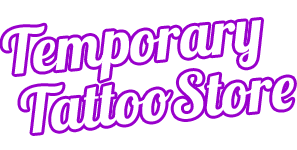 VISIT OUR TATTOO STENCIL PAGE HERE and for videos and pictures visit our Instagram page HERE