Cosmetic & Body Glitter
We supply a range of glitters (premium cosmetic) & body glitter (standard) suitable for temporary tattoos, make up, nail art  & body art. Our cosmetic glitters are of cosmetic grade, FDA approved and EN71 approved. Our Premium, Cosmetic Glitter is suitable for use on your body & face, so it's perfect for glitter make-up, glitter nails, glitter lips & glitter tattoos.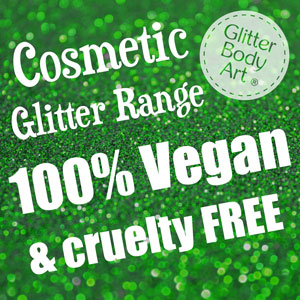 Our Premium Cosmetic Glitter is also 100% Vegan & is Not Tested on Animals.